Endocrine disruptors are everywhere. Not just in the pesticides in our food, or in our personal care products, but in the everyday objects we touch. Today's post will tell you how to easily detox your life from plastic. While we can never be totally plastic free, these tips can lessen the impact plastic has on your life and body.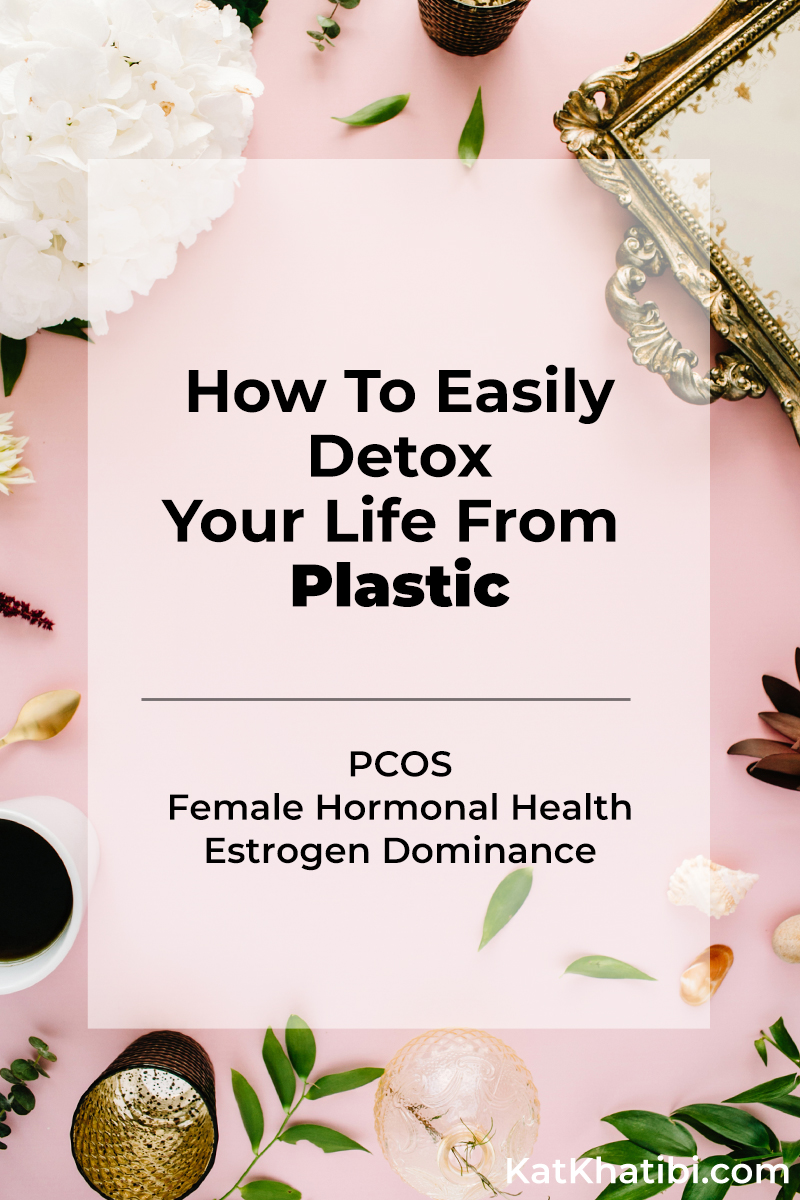 In Your Bedroom
Avoid plastic, pvc, or acrylic coated furniture. Make sure all the knobs and switches in your home are plastic free. If you cannot change the switches and the switchplates, at least do the switchplates.
Real fabric sheets, pillow cases, and conforters. Look for cotton and bamboo.
On Your Person
Get a plastic-free phone case. They have wood, bamboo, and more cases to choose from. Avoid recycled plastic cases. Sure they are sustainable, but the plastic shouldn't be touching your hands and body that often.
Think outside of plastic and pleather for your wallet. There are plenty of vegan options too. Look for wood, metal cases, fabric, cork, etc.
Shoes are a hard one. The best you can do is make sure the parts touching your feet are plastic free. Imagine a hot day in cheap plastic pleather shoes. Sweaty feet and warm temperatures increase the amount of leaching into your body via your feet.
In the Bathroom
Glass liquid soap dispensers with stainless steel spouts are a great alternative to constantly touching plastic containers. You can put your lotions and other products normally in plastic in them too!
Use bamboo toothbrushes with caracol bristles.
Swtich to a silk floss over those plastic BPA lined traditional ones.
In The Kitchen
Food storage is important.  Especially for kitchen staples.  You can buy large twist top mason jars to store all your dry goods and even leftovers in them.  Mason jars are amazing, cheap, and come in tons of sizes with add-on options for fermenting, shakers, etc.  Unfortunately, many food storage containers that are glass have plastic lids or don't seal properly.  Look for Mason jars that twist to seal.
We now have heat-resistant glass straws.  Great for thick smoothies or your morning warm lemon water.  
Use a Turkish quick dry hand towel instead of tons of paper towels. Yup, nothing to do with plastic, but since you're at it might as well.
Use wooden cooking utensils over plastic.
Get a cheaper set of silverware for parties. Same with dishes and cups. If you use your cheaper party set you won't be as worried if some get lost or broken.
Pyrex has a line of food storage containers that not only are glass BUT have GLASS lids with a bit of silicone to seal. No other company has this awesome option yet! Perfect for meal prep too!