How to Avoid Greenwashing in Clothing and Toxins in Fabrics
Are you concerned about avoiding greenwashing in clothing and staying away from toxins in fabrics?
If you're all about having optimal hormonal health and avoiding toxins in products, you've probably already found one of those apps for cosmetics.  That's a great start!  It goes on your SKIN!  But know what else goes on your skin?  Clothing!
Here are some tips to help you make informed and sustainable choices when shopping for clothing:
+Watch out for misleading marketing terms. Just because a fabric looks natural, textured, or uses muted colors doesn't mean it's free of plastics and toxins. Bamboo fabrics, for example, are often marketed as sustainable and natural, but in reality, they are chemically processed and do not retain any of the original plant's properties.

+Avoid man-made cellulosic fibers such as viscose rayon, modal, lyocell, acetate, and cupro. These fabrics have been shown to cause hormonal disruption, environmental damage, and other harmful side effects.

+Choose organic cotton instead. This sustainable and healthy fabric option can be grown without the use of pesticides and chemicals.

+Do your research and only buy from trustworthy brands. Look for brands that are transparent about their manufacturing processes and materials and avoid those that make false or exaggerated claims about their eco-friendliness.

+Support organizations that are working to combat greenwashing in the fashion industry and promote sustainability and transparency.
By following these tips, you can avoid contributing to greenwashing and ensure that the clothing you buy is safe and sustainable.
But let's go more into detail about this, so you understand the full scope of the problem and the steps you need to take for your health and your family.
How Greenwashing Makes Buying Clothing Harder
Everyone wants to know an app, a brand.  Truth is, it's VERY rare to find a BRAND you can trust.  The second you trust them; they switch it up to save money.  A little success seems to always lead to greed and forgetting the people they were trying to serve.  
Some ways you'll see them do this is the 100% organic item now has some "recycled plastic fabric".  Every time we wash something with plastic material in it, it's going into the water supply and eventually the ocean.  This is known to cause endocrine disruption.  
Recycled just means double the processing, double the solvents to breakdown, more heat, more everything.  
Rather than recycling we need to eliminate uses in anything and everything we come in direct contact with or that comes in contact with our food, water, and products.
Greenwashing also occurs by creating new "fabrics" that sound good for the environment and human use, but we fail to notice the original product is too hard to be a soft fabric.  So we are then faced with the harsh reality that in order to turn something so hard and not fabric like into something that resembles a fabric, it will need extensive processing.  This usually includes toxic solvents to break down the fibers which leech into the water supply poisoning humans and ocean life alike.  
Bamboo Fabric Is Unsuitable for Clothing
When bamboo is chemically processed into rayon or other fabrics, you'll find nothing of the original plant left.  A bamboo plant is able to resist the growth of bacteria, but there is no evidience rayon fabric from processed bamboo has any natural antibacterial properties.
Real bamboo fabric that may have some antibacterial effect is rough and scratchy.  This is rarely used to anything you would touch like bedding or clothing.  The fact it is being sold as bedding or clothing should be enough for you to know it is not non-toxic and not sustainable.  Regardless of any claims made.
If you have been misled about Bamboo "fabrics" you may report companies here.
Avoid marketing terms for Bamboo fabrics:
Viscose Rayon
Lyocell or Closed Loop Production
And remember when they say "natural" solvents keep in mind there is no regulations on the term "natural".  
Fabrics to avoid:
Some of these fabrics have been shown to cause hormonal disruption, environmental damage, itching, insomnia, as well as other side effects of use. Be particularly careful to avoid in underwear, sleep, and workout clothing.  
A False Choice
The Benefits of Organic Cotton vs. Bamboo Fabric: When it comes to water use and environmental impact, bamboo may seem like the clear winner. But if you're concerned about the health and sustainability of your fabric, organic cotton is the better choice. Unlike conventional cotton, organic cotton is grown without the use of pesticides and chemicals, making it toxin-free and safer for the environment. 
The HANDS DOWN BEST Fabrics for Clothing
Organic Cotton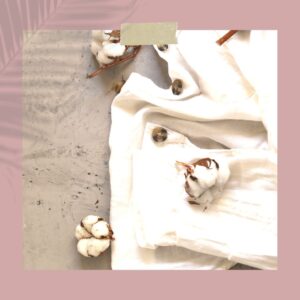 First and foremost, we are starting off this list with ORGANIC COTTON. It's soft, can be made with no toxic chemicals, can be grown using sustainable farming.
Organic Silk and Peace Silk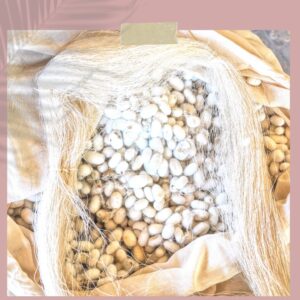 Silk is a fabulous option.  However, finding REAL silk is a pain.  Most so-called silk items are really a satin made from plastic.  A silk-like feel.  Fake silk is so common most people only think they have touched real silk.  
Peace silk is a rougher silk fabric, but it is made using silkworm cocoons after the silkworm discards them.  Not as soft, but still completely safe and toxin free to use.
Silk is especially wonderful at night because it naturally keeps you cool.  Silk pillows are wonderful because they do not suck moisture from the skin and help in avoiding wrinkles.  
Linen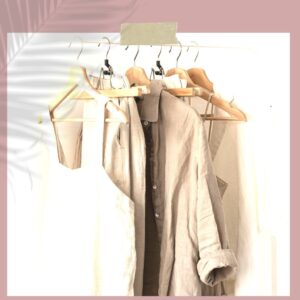 Linen is a completely safe fabric.  Wonderful for warm weather and hot summer days.  But not as great at night as it can be scratchy.  
Wool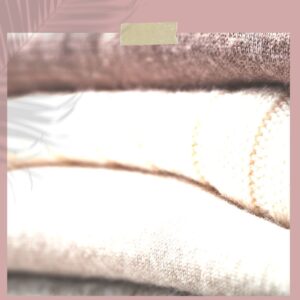 Wool is another great fabric choice.  Especially wonderful for cold weather and climates.  Blankets, sweaters, and winter coats.  It makes wonderful suits and I love a wool pencil skirt.
Cashmere
Cashmere is a wonderfully soft, warm, and light product that has several uses. Unlike other types of wool that come from a sheep, cashmere comes from a goat. Usually, a pashmina goat or a cashmere goat will produce the wool necessary to make cashmere yarn. These goats are special goats that are designed to endure the cold weather.
Hemp
Hemp is safe and sustainable.  However, it is scratchy and can be fragile when used in clothing. It can also be processed, so make sure it is organic or ask the manufacturer for what they use in processing.
Dyes, Additives, and Flame Retardants
So now we know the fabrics to look for we should be safe, well, not quite.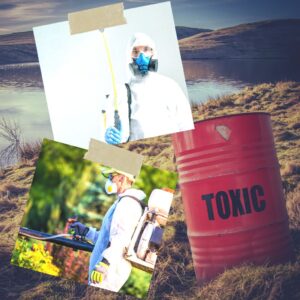 If the fabric isn't organic and certified, it might still be sprayed with toxins that can cause real damage with normal human use.
In fact, most sleepwear is sprayed with highly toxic flame retardants.  So, you must go out of your way to make sure it has not been sprayed, or you can do what I do, but using clothing not meant for sleeping.
Anything labeled static-resistant, stain-resistant, permanent press, wrinkle-free, stain-proof, or moth-repellent. Many of the stain-resistant and wrinkle-free fabrics are treated with perfluorinated chemicals (PFCs), like Teflon; these pollutants have been detected in humans and marine animals.
Some certifications to look for are:
Organic Content Standard (OCS)
Ecocert
There are two certification levels.
Level 1: OCS100
95% minimum of certified organic fiber

5% maximum additional fibers other than organic
Level 2: OCS blended
Concerns products mixed with 5% minimum of certified organic fiber
This one is OK, but still allows non-organic fibers which is counterproductive imo.
The Global Organic Textile Standard (GOTS)
GOTS is the "green" standard to which Organic Cotton Textiles are produced. Organic Cotton Plus sees the development of GOTS as a defining event in the story of organic cotton. For all of our GOTS certified fabrics, we ensure that every facility is inspected, and each step is certified.  
This is the Certification I personally always look for.
Organic Trade Association
The Organic Trade Association (OTA) is the membership-­based business association for the organic industry in North America. OTA's mission is to promote and protect organic trade to benefit the environment, farmers, the public, and the economy. OTA envisions organic products becoming a significant part of everyday life, enhancing people's lives and the environment. OTA represents businesses across the organic supply chain and addresses all things organic, including food, fiber/textiles, personal care products, and new sectors as they develop. Over sixty percent of OTA trade members are small businesses.
I like this certification and will consider buying items with it.
Green America
Green Business Certification is awarded to businesses that are:
Actively using their business as a tool for positive social change;
Operating a "values-driven" enterprise according to principles of social justice AND environmental sustainability;
Environmentally responsible in the way they source, manufacture, and market their products and run their operations and facilities;
Socially equitable and committed to extraordinary practices that benefit workers, customers, communities, and the environment; and
Accountable for their work by continually improving and tracking their progress and operating with radical transparency in every facet of their business.
In my opinion while this is OK, it's not enough. I personally do not buy based on this certification.
Plastic-Free and Toxin-Free Organic Clothing Brands to Check Out
Further Research:
1. Labrèche F, Goldberg MS, Valois M, et alPostmenopausal breast cancer and occupational exposures. Occupational and Environmental Medicine 2010;67:263-269.
2. Francesca De Falco, Mariacristina Cocca, Maurizio Avella, Richard C. Thompson. Microfiber Release to Water, Via Laundering, and to Air, via Everyday Use: A Comparison between Polyester Clothing with Differing Textile Parameters. Environmental Science & Technology, 2020; DOI: 10.1021/acs.est.9b06892.
3. Jennifer M. Keller, Lily Ngai, Joanne Braun McNeill, Lawrence D. Wood, Kelly R. Stewart, Steven G. O'Connell, John R. Kucklick. Perfluoroalkyl contaminants in plasma of five sea turtle species: Comparisons in concentration and potential health risks. Environmental Toxicology and Chemistry, 2012; 31 (6): 1223 DOI: 10.1002/etc.1818.
4. Mohan Manikkam, Rebecca Tracey, Carlos Guerrero-Bosagna, Michael K. Skinner. Dioxin (TCDD) Induces Epigenetic Transgenerational Inheritance of Adult Onset Disease and Sperm Epimutations. PLoS ONE, 2012; 7 (9): e46249 DOI: 10.1371/journal.pone.0046249.
5. Sara Ortega-Atienza, Blazej Rubis, Caitlin McCarthy, Anatoly Zhitkovich. Formaldehyde Is a Potent Proteotoxic Stressor Causing Rapid Heat Shock Factor Protein 1 Activation and Lys48-Linked Polyubiquitination of Proteins. The American Journal of Pathology, 2016; DOI: 10.1016/j.ajpath.2016.06.022.
6. Rovira J, Nadal M, Schuhmacher M, Domingo JL. Human exposure to trace elements through the skin by direct contact with clothing: Risk assessment. Environ Res. 2015 Jul;140:308-16. doi: 10.1016/j.envres.2015.03.032. Epub 2015 Apr 16. PMID: 25889781.
7. T. Karl, M. Striednig, M. Graus, A. Hammerle, G. Wohlfahrt. Urban flux measurements reveal a large pool of oxygenated volatile organic compound emissions. Proceedings of the National Academy of Sciences, 2018; 201714715 DOI: 10.1073/pnas.1714715115.
8. Brunza, Doris. "Finding Tolerable Clothing or Fabric." The Human Ecologist, Fall 1992.
Would You Take 30 Seconds to Rate & Review the Kat Khatibi Podcast?
The best way to help me spread our mission is to give us a 5-star review, and I read and appreciate every review!
1. Click link:  Kat Khatibi Podcast on Health, Happiness, & Beauty on Apple Podcasts
2. Click "View in iTunes" button
3. Click "Subscribe" button
4. Click "Ratings and Reviews" text
5. Click to rate and leave a short review and you're done!
6.  If you include your Instagram name, I will even share a screenshot of your 5-star review and tag you back!